Posts for tag: tmj disorders
By Glen Ridge Dental Arts
June 17, 2020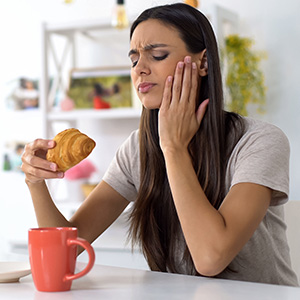 Eating is like breathing: We often do it without much thought. But if you suffer from chronic jaw pain, every bite can get your attention—and not in a good way. What's worse, in an effort to avoid the pain associated with a temporomandibular joint disorder (TMD) you might make less than nutritious food choices.
But there are ways to eat healthy without aggravating the symptoms of TMD—not just your choices of food, but also how you prepare and actually eat the food. Here are 4 tips that can help you manage eating with TMD.
Choose moist foods in sauces or gravy. A lot of chewing action is intended to mix saliva with tough or dry foods to make them easier to digest. But this extra jaw action can irritate the jaw joints and muscles and increase your discomfort. To help reduce your jaws' work load, choose foods with a high moisture content, or cook them in a sauce or gravy.
Peel foods with skin. Fresh fruits and vegetables are an excellent source of vitamins and minerals, but their tough outer skin or peel is often hard to chew. Although these parts may also contain nutrients, removing them allows you to gain most of the nutritional benefit of the food while making it easier to chew it.
Cut foods into bite-size pieces. A lot of discomfort with TMD occurs with having to open the jaws wide to accommodate large pieces of food. To minimize the amount of jaw opening, take time to cut all your food portions down into smaller pieces. Doing so can help you avoid unnecessary discomfort.
Practice deliberate eating. All of us can benefit from slower, more methodical eating, but it's especially helpful for someone with TMD. By chewing deliberately and slowly and doing your best to limit jaw opening, you can enhance your comfort level.
Eating often becomes an arduous task for someone with TMD that increases pain and stress. But practicing these tips can make your dining experience easier—and more enjoyable.
If you would like more information on managing TMD in everyday life, please contact us or schedule an appointment for a consultation. You can also learn more about this topic by reading the Dear Doctor magazine article "What to Eat When TMJ Pain Flares Up."
By Glen Ridge Dental Arts
November 20, 2019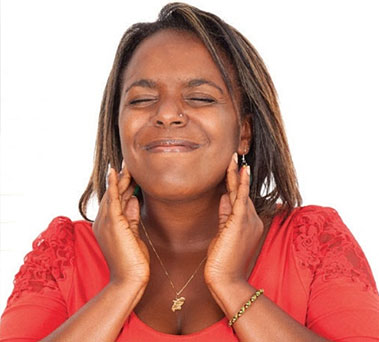 Fibromyalgia is a chronic condition that produces widespread pain and stiffness in the muscles and joints. The pain, muscle spasms and tingling it causes can disrupt sleep, alter moods and impair memory function.
Dealing with just this one condition can be overwhelming. But did you know 3 out 4 fibromyalgia patients also develop chronic pain and dysfunction involving their jaw joints? Known collectively as temporomandibular joint disorders (TMD), these jaw joint problems cause pain, muscle spasms and difficulty moving the jaws that can interfere with eating and speaking. TMD can also contribute to headaches and earaches.
Many researchers believe this prevalence of TMD among fibromyalgia patients stems from both conditions originating from the same primary cause—a malfunction within the central nervous system. In both cases, the brain and spinal cord may not be able to process pain signals in a normal fashion. This malfunction could also be generating and amplifying pain signals even when nerves are receiving no stimulation.
For decades now, the most effective treatment strategy for TMD has been to manage the symptoms with physical therapy and exercises, thermal therapy or medications. Relief for fibromyalgia has depended on medication and relaxation techniques like biofeedback therapy. But with the evidence of some connection between the two conditions, it may be helpful to coordinate treatment for both with a team approach involving all your healthcare providers, rather than treat them separately.
To that end, make sure both your dentist or physician treating you for TMD and your physician treating your fibromyalgia each know about the other condition. Consulting together, your healthcare team may find treatments (like certain drugs that counteract neurotransmitter imbalances) that might help reduce symptoms in both conditions. And cognitive-behavioral therapy, meditation and other therapeutic pain management techniques can help you cope with the pain.
Continued research into these two debilitating conditions and the possible links between them may have an effect on how we treat both. A holistic approach to treating them could be the wave of the future.
If you would like more information on the links between TMD and other chronic pain conditions, please contact us or schedule an appointment for a consultation. You can also learn more about this topic by reading the Dear Doctor magazine article "Fibromyalgia and Temporomandibular Disorders."
By Glen Ridge Dental Arts
November 25, 2018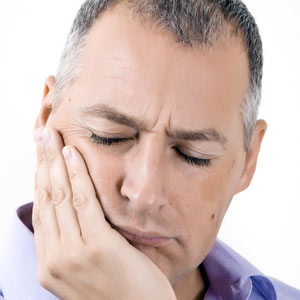 Chronic pain can turn your life upside down. While there are a number of disorders that fit in this category, two of them—fibromyalgia and temporomandibular disorders (TMD)—can disrupt your quality of life to the extreme. And it may be the two conditions have more in common than similar symptoms—according to one study, three-fourths of patients diagnosed with fibromyalgia show symptoms of TMD.
To understand why this is, let's take a closer look at these two conditions.
Fibromyalgia presents as widespread pain, aching or stiffness in the muscles and joints. Patients may also have general fatigue, sleep problems, mood swings or memory failures. TMD is a group of conditions that often result in pain and impairment of the temporomandibular joints that join the jaw with the skull. TMD can make normal activities like chewing, speaking or even yawning painful and difficult to do.
Researchers are now focusing on what may, if anything, connect these two conditions. Fibromyalgia is now believed to be an impairment of the central nervous system within the brain rather than a problem with individual nerves. One theory holds that the body has imbalances in its neurotransmitters, which interfere with the brain's pain processing.
Researchers have also found fibromyalgia patients with TMD have an increased sensitivity overall than those without the conditions. In the end, it may be influenced by genetics as more women than men are prone to have either of the conditions.
Treating these conditions is a matter of management. Although invasive techniques like jaw surgery for TMD are possible, the results (which are permanent) have been inconclusive in their effectiveness for relieving pain. We usually recommend patients try more conservative means first to lessen pain and difficulties, including soft foods, physical therapy, stretching exercises and muscle relaxant medication. Since stress is a major factor in both conditions, learning and practicing relaxation techniques may also be beneficial.
In similar ways, these techniques plus medication or cognitive-behavioral therapy that may influence neurotransmission can also help relieve symptoms of fibromyalgia. Be sure then that you consult with both your physician and dentist caring for both these diseases for the right approach for you to help relieve the effects of these two debilitating conditions.
If you would like more information on managing TMD or fibromyalgia, please contact us or schedule an appointment for a consultation. You can also learn more about this topic by reading the Dear Doctor magazine article "Fibromyalgia and Temporomandibular Disorders."