Posts for tag: pediatric dentistry
By Glen Ridge Dental Arts
May 19, 2018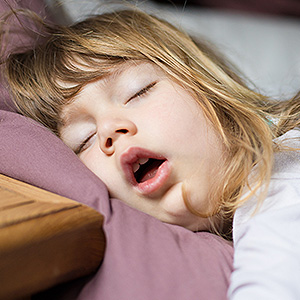 Many things can affect your child's future dental health: oral hygiene, diet, or habits like thumb sucking or teeth grinding. But there's one you might not have considered: how they breathe.
Specifically, we mean whether they breathe primarily through their mouth rather than through their nose. The latter could have an adverse impact on both oral and general health. If you've noticed your child snoring, their mouth falling open while awake and at rest, fatigue or irritability you should seek definite diagnosis and treatment.
Chronic mouth breathing can cause dry mouth, which in turn increases the risk of dental disease. It deprives the body of air filtration (which occurs with nose breathing) that reduces possible allergens. There's also a reduction in nitric oxide production, stimulated by nose breathing, which benefits overall health.
Mouth breathing could also hurt your child's jaw structure development. When breathing through the nose, a child's tongue rests on the palate (roof of the mouth). This allows it to become a mold for the palate and upper jaw to form around. Conversely with mouth breathers the tongue rests behind the bottom teeth, which deprives the developing upper jaw of its tongue mold.
The general reason why a person breathes through the mouth is because breathing through the nose is uncomfortable or difficult. This difficulty, though, could arise for a number of reasons: allergy problems, for example, or enlarged tonsils or adenoids pressing against the nasal cavity and interfering with breathing. Abnormal tissue growth could also obstruct the tongue or lip during breathing.
Treatment for mouth breathing will depend on its particular cause. For example, problems with tonsils and adenoids and sinuses are often treated by an Ear, Nose and Throat (ENT) specialist. Cases where the mandible (upper jaw and palate) has developed too narrowly due to mouth breathing may require an orthodontist to apply a palatal expander, which gradually widens the jaw. The latter treatment could also influence the airway size, further making it easier to breathe through the nose.
The best time for many of these treatments is early in a child's growth development. So to avoid long-term issues with facial structure and overall dental health, you should see your dentist as soon as possible if you suspect mouth breathing.
If you would like more information on issues related to your child's dental development, please contact us or schedule an appointment for a consultation.
By Glen Ridge Dental Arts
October 10, 2017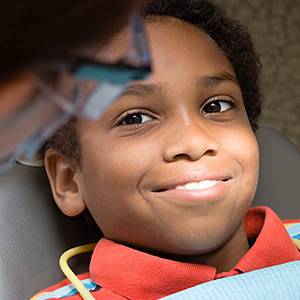 Even though baby teeth are not meant to last forever, they serve some very important functions for the time they are around. Healthy baby teeth allow your child to bite and chew food, articulate sounds correctly during speech, and, of course, to smile! They also help guide the permanent teeth, which will one day replace them, into proper alignment. So it's important to take good care of them while they're here. Let's answer some frequently asked questions about pediatric dentistry.
Can I get my teeth cleaned while I'm pregnant?
Yes — and you should! Both the American Dental Association and the American Congress of Obstetricians and Gynecologists recommend that women keep up with their regular schedule of dental cleanings and exams during pregnancy. Not doing so can allow disease-causing oral bacterial to flourish, which can be a health risk for both the expectant mother and her fetus.
Do infants need their teeth brushed?
Yes, it's important to start a daily oral hygiene routine as soon as the first baby tooth appears — usually sometime between six and nine months of age. Use a very soft-bristled child-sized toothbrush and just a smear of fluoride toothpaste (the size of a grain of rice). When your child turns 3, increase the amount of fluoride toothpaste to the size of a pea.
When should I take my child in for her first dental appointment?
The answer to this one may surprise you: All children should see a dentist by the age of 1. Early dental visits get children accustomed to having their mouths examined and their teeth cleaned. Establishing this healthy habit early will go a long way toward promoting a lifetime of good oral health.
Should I worry that my child sucks his thumb?
That depends on how old he is. Thumb sucking is a normal, comforting habit for babies and toddlers. Most outgrow it by the time they are 4. But kids who don't are at increased risk for orthodontic issues later on. If your child seems unable to break the habit, let us know; we can give you more detailed recommendations at your next appointment.
What can I do to prevent my children from getting cavities?
Make sure your children have an effective daily oral hygiene routine that includes brushing with fluoride toothpaste twice a day and flossing at least once per day. If they are too young to do a good job by themselves, help them complete these important tasks. Keep their sugar consumption as low as possible; pay particular attention to beverages — soda, sports drinks and even 100 % natural fruit juices can all promote tooth decay. We can offer individualized advice on fighting cavities, and even provide fluoride treatments and dental sealants for extra protection against cavities. So don't forget to bring your child in to the dental office for regular exams and cleanings!
If you would like more information about caring for your child's teeth, please contact us or schedule an appointment for a consultation.
By Glen Ridge Dental Arts
July 19, 2017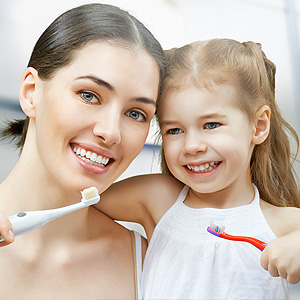 A child's formative years have an immense impact on their physical, mental and emotional well-being. As a parent you want them to have every advantage possible.
That should include a healthy mouth — actions you take now could determine the long-term soundness of their teeth and gums. Here are 5 things you can do to ensure your child's present and future oral health.
Begin oral hygiene habits early. By early, we mean even before their first teeth appear. Wipe their gums after every feeding with a water-soaked cloth or gauze pad; when teeth appear switch to brushing with just a smear of toothpaste on the end of the brush.
Start dental visits around their first birthday. Early dental visits increase the chances of detecting and treating developing problems before they become worse. And starting may also help your child become comfortable with visiting the dentist — waiting until later increases the chances of anxiety and an aversion to dental visits that might carry over into adulthood.
Adopt dental-friendly home and lifestyle habits.  Don't allow your child to sleep with a pacifier or bottle filled with sugary fluids, including breast milk or formula: fill them with water instead. Limit their sugar consumption to small amounts and only at meal times. And be sure to "childproof" your home against hazards, especially sharp-edged furniture that could damage teeth if they make hard contact with it.
Teach them to care for their own teeth. Although you'll need to brush their teeth for them in the beginning, be sure you eventually teach them to perform this vital habit for themselves. To ease the transition try modeling the behavior or make it into an activity you can do together.
Partner with your family dentist. Your dental office can do more than prevent or treat dental disease — they're an important resource in helping you manage your child's dental needs at home. They can coach you on brushing and flossing techniques, and provide information to set your mind at ease about concerns like teething or thumb sucking.
If you would like more information on complete oral care for your child, please contact us or schedule an appointment for a consultation. You can also learn more about this topic by reading the Dear Doctor magazine articles "Dentistry & Oral Health for Children" and "Top 10 Oral Health Tips for Children."