Posts for tag: nutrition
By Glen Ridge Dental Arts
October 05, 2021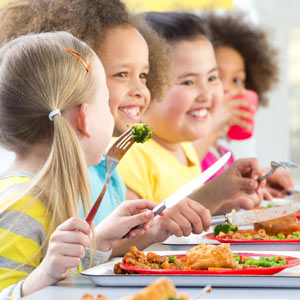 In addition to daily oral hygiene and regular dental visits, a tooth-friendly diet can boost your kid's dental health and development. You can help by setting high standards for eating only nutritious foods and snacks at home.
But what happens when they're not home—when they're at school? Although public schools follow the Smarts Snacks in Schools initiative sponsored by the U.S. Department of Agriculture, those guidelines only recommend minimum nutritional standards for foods and snacks offered on campus. Many dentists, though, don't believe they go far enough to support dental health.
Besides that, your kids may have access to another snack source: their peers. Indeed, some of their classmates' snacks may be high in sugar and not conducive to good dental health. Your kids may face a strong temptation to barter their healthy snacks for their classmates' less than ideal offerings.
So, what can you as a parent do to make sure your kids are eating snacks that benefit their dental health while at school? For one thing, get involved as an advocate for snacks and other food items offered by the school that exceed the USDA's minimum nutritional standards. The better those snacks available through vending machines or the cafeteria are in nutritional value, the better for healthy teeth and gums.
On the home front, work to instill eating habits that major on great, nutritional snacks and foods. Part of that is helping your kids understand the difference in foods: some are conducive to health (including for their teeth and gums) while others aren't. Teach them that healthier foods should make up the vast majority of what they eat, while less healthier choices should be limited or avoided altogether.
Doing that is easier if you take a creative, playful approach to the snacks you send with them to school. For example, if you send them to school with their own snacks, add a little excitement like cinnamon-flavored popcorn or cheese and whole wheat bread bites in different shapes. And make it easier for them with bite-sized snacks like grapes, baby carrots or nuts.
You can't always control what snacks your kids eat, especially at school. But following these tips, you may be able to influence them in the right direction.
If you would like more information on helping your child develop tooth-friendly snacking habits, please contact us or schedule an appointment for a consultation. You can also learn more about this topic by reading the Dear Doctor magazine article "Snacking at School."
By Glen Ridge Dental Arts
February 18, 2020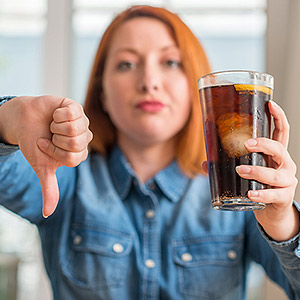 You can find some version of the ever popular kids' meal at most major fast-food restaurants. It's a neat little package: child's size portions of burgers, chicken nuggets or sides—and often a small toy or treat to boot—all tucked into its own colorful cardboard container.
The drive-thru menu board at your favorite fast-food joint gives you plenty of choices to fill out your child's meal. But you may notice something missing on many major chains' kids' menus—the mention of soft drinks as a beverage choice. You can still get one for your child's meal, but the visual cue is no more on the menu board.
None of the "Big Three"—Burger King, McDonald's or Wendy's—post soft drinks as a menu item for their kid's meals. It's the result of an effort by health advocates promoting less soda consumption by children, the leading source of calories in the average child's diet. With its high sugar content, it's believed to be a major factor in the steep rise in child obesity over the last few years.
Sodas and similar beverages are also prime suspects in the prevalence of tooth decay among children. Besides sugar, these beverages are also high in acid, which can erode tooth enamel. These two ingredients combined in soda can drastically increase your child's risk of tooth decay if they have a regular soda habit.
You can minimize this threat to their dental health by reducing their soda consumption. It's important not to create a habit of automatically including sodas with every meal, especially when dining out. Instead, choose other beverages: Water by far is the best choice, followed by regular milk. Chocolate milk and juice are high in sugar, but they're still a healthier choice than sodas due to their nutrient content.
Keeping sodas to a minimum could help benefit your child later in life by reducing their risk for heart disease, diabetes and other major health problems. It will also help them avoid tooth decay and the problems that that could cause for their current and future dental health.
If you would like more information on these and other effective practices for protecting your child against tooth decay, please contact us or schedule an appointment for a consultation.